Hot Drinks & Food Service Items For Colder Weather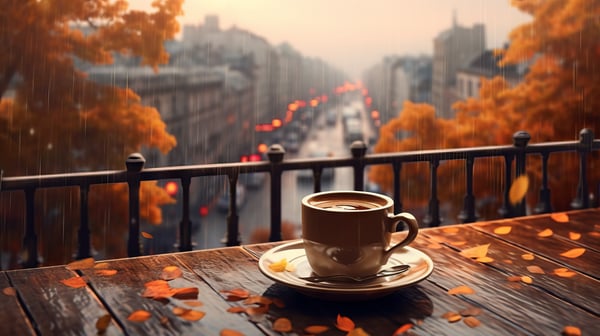 Get Cozy Sipping Hot Drinks With Fall-Themed Cups & Lids
As the fall season approaches, it's the perfect time to introduce some autumn vibes into our workplace kitchen. By purchasing fall-themed paper cups and matching lids, we can add a touch of coziness and fun to our daily coffee breaks and lunchtime gatherings. These items are not just stylish but also practical - they are eco-friendly, biodegradable, and contribute to a greener environment by reducing plastic waste. So, let's embrace the spirit of fall and make our office kitchen a warm and sustainable space for everyone to enjoy their beverages hassle-free!
Chicago's Best Perk Premium Coffee
Enjoy hot drinks like Chicago's Best Perk Premium Coffee: - a 100% Columbian blend that has been specially roasted for the discerning taste profile of Chicagoans. Our Premium Grown Arabica beans are roasted and then sealed in our specially designed nitrogen flushed packages in order to remove air that can oxidize coffee grounds. This unique process locks in taste and aroma to keep the coffee grounds as fresh as the day it was roasted. Serve your coffee and other hot creations in disposable food service items here...
Caffeinated Coffees From Chicago's Best Perk
Classic R
oast Chicago's Best Perk Premium Coffee - 42, 1.25 packs per case
Chicago's Best Perk Premium Coffee
Classic Blends: Classic Roast Blend
Pack size: 1.5 oz. Packs per carton: 42
Breakfast Blend Chicago's Best Perk Premium Coffee - 42, 1.25 oz. packs per case
Chicago's Best Perk Premium Coffee
Cafe Blends: Breakfast Blend
Pack size: 1.5 oz. Packs per carton: 42
Custom Blend Chicago's Best Perk Premium Coffee - 42, 1.25 oz. packs per case
Chicago's Best Perk Premium Coffee
Cafe Blends: Custom Blend
Pack size: 1.5 oz. Packs per carton: 42
100% Columbian Premium Blend
Chicago's Best Perk Premium Coffee - 42, 1.5 oz. packs per case
Chicago's Best Perk Premium Coffee
Cafe Blends: 100% Columbian
Pack size: 1.5 oz. Packs per carton: 42
Donut Blend Chicago's Best Perk Premium Coffee - 20, 2.5 oz. packs per case
Chicago's Best Perk Premium Coffee
Gourmet Blends: Donut Blend
Pack size: 2.5 oz. Packs per carton: 20
French Roast Chicago's Best Perk Premium Coffee - 20, 2.5 oz. packs per case
Chicago's Best Perk Premium Coffee
Custom Blends: French Roast
Pack size: 2.5 oz. Packs per carton: 20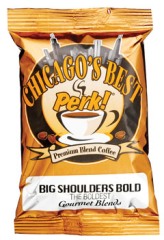 Big Shoulders Bold Chicago's Best Perk Premium Coffee - 20, 2.5 oz. packs per case
Chicago's Best Perk Premium Coffee
Gourmet Blends: Big Shoulders Bold
Pack size: 2.5 oz. Packs per carton: 20
Decaffeinated Coffees From Chicago's Best Perk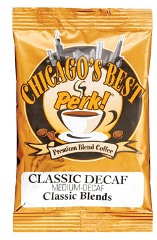 Classic Decaf Chicago's Best Perk Premium Coffee - 42, 1.25 packs per case
Chicago's Best Perk Premium Decaf Coffee
Classic Blends: Classic Decaf
Pack size: 1.5 oz. Packs per carton:42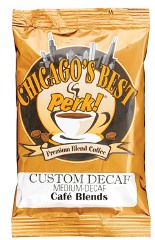 Custom Decaf Chicago's Best Perk Premium Coffee - 42, 1.5 oz. packs per case
Chicago's Best Perk Premium Decaf Coffee
Cafe Blends: Custom Decaf
Pack size: 1.5 oz. Packs per carton:42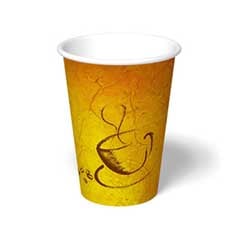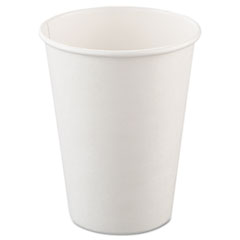 Soho Design Hot Cup, Available In 8oz & 16oz Sizes, 1000/case
Item:

IPRSMR8SH (8 oz); IPRSMR16SH
Rigid structure
Disposable to eliminate cleaning hassles
Single-Sided Poly Paper Hot Cups, Available In 8 oz, 12 oz & 16 oz Sizes, White, 50/Bag, 20 Bags/Carton
Item:

SCC378W2050 (8 oz); SCC412WN (12 oz); SCC316W (16 oz)
Sturdy design holds up in almost any situation
Smooth rolled rim gives rigidity to the cup
Heat-sealed seams and interlocked bottoms prevent leaks and retain heat
Excellent for serving coffee, tea, hot chocolate or any hot beverage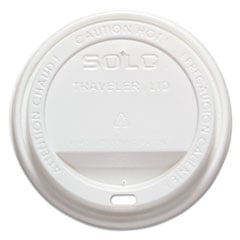 Traveler Cappuccino Style Dome Lid, Polystyrene, Fits 10 oz to 24 oz Hot Cups, White, 100/ Pack, 10 Packs/ Carton
Lid-up compatible SOLO® cups fit tightly
Long-sleeve, dome design with sipper-slot
Unique inner-catch ring keeps the lid from popping-off if the cup should bend or flex
Allows extra room for froth or whipped cream
Contact Warehouse Direct Below For More Info On Hot Drinks & Food Service Items: